Power Collection and Distribution in Medium-Voltage DC Networks
Latest News
2015.09.08: Project application submitted to Innovationsfonden.dk

2015.09.01: CIGRÉ Working Group established. C6-31 "MVDC Grid Feasibility Study"
Research Programme Description
To reduce electrical losses and investment cost of HVDC-connected offshore wind power plants, it is proposed to let the wind farm's internal power collection network become medium-voltage DC rather than medium-voltage AC. Such a paradigm shift entails new solutions in the entire chain from wind turbine to HVDC export cable:
Wind turbine DC converters (~10MW, ±50kV)
MVDC cables
MV/HV DC/DC converters (~hundreds of MW, ±50kV/±320kV)
MVDC distribution substation and network control & protection.
This not only requires development of new essential components that work together in a new system configuration. Therefore, we:
Investigate different DC network topologies for power flow control, security of supply, while establishing a foundation for equipment rating (cables, converter stations
Explore and demonstrate 50kV converter design using relevant power semiconductors
Explore and demonstrate high‐frequency converter transformer designs with low‐loss steels, suitable winding arrangement and insulation systems, leading to the construction of a prototype
Study methods to secure DC network stability and power quality
Develop insulation co‐ordination for DC networks and assure fault clearance capability
Promote early standardisation of the ensemble of components in DC networks and equipment functionalities based on findings
Develop MVDC system simulation models and simulation environment.
With the above, we aim to identify the optimal - and feasible - DC collection solution(s) in terms of configuration, equipment ratings, operational characteristics.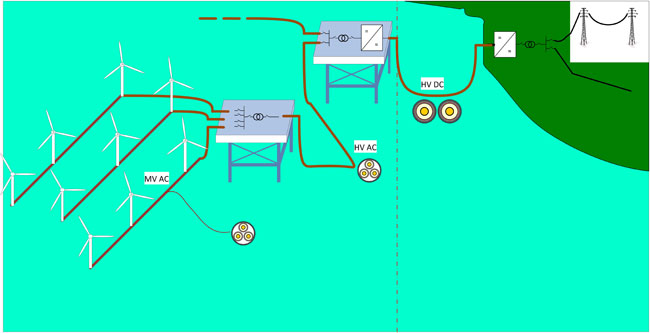 MVAC based offshore wind farm: One or more wind plants with substation, connected to a single HVDC offshore converter.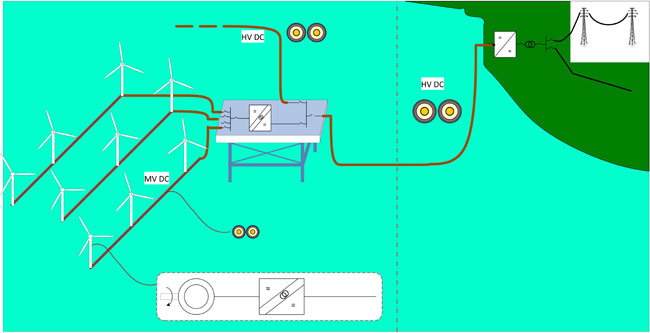 MVDC based offshore wind farm: plant power collection at medium-voltage DC & offshore step-up HVDC converter.
Library
Papers & posters
Studies for Characterisation of Electrical Properties of DC Collection System in Offshore Wind Farms". Abstract submitted to CIGRÉ Session 2016

Internal Reports and presentations
Contact
Pontoppidanstræde 101
9220 Aalborg East

Professor Philip Carne Kjær
E-mail: pck@et.aau.dk
Phone: +45 5139 3726
Professor Claus Leth Bak
E-mail: clb@et.aau.dk
Phone: +45 9940 9281
Associate Professor Filipe Miguel Faria Da Silva
E-mail: ffs@et.aau.dk
Phone: +45 9940 9280
Postdoc Yu-Hsing Chen
E-mail: yhc@et.aau.dk
Phone: +45 2295 8743
PhD Catalin Gabriel Dincan
E-mail: cgd@et.aau.dk
Phone: +45 5086 6867